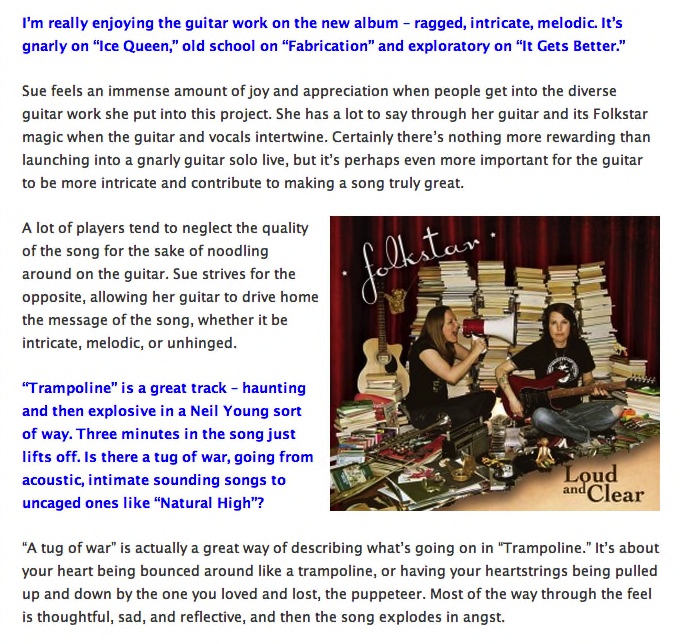 Kim Dicso and Sue Cag of folk rock duo talk about making their new album "Loud and Clear" out on Karmic Fury Records and what went into some of the songs. "Loud and Clear" was released in August. Listen to it here or read our review of it here.
Loud and Clear is large in scope – 16 tracks and musically diverse. Did you create what you set out to do or did it go beyond?
We allowed the process to take shape organically. We knew we wanted to record another full-length album, but we didn't want to put any restrictions on the creative process. We made a deliberate decision not to follow the rules. Most producers wouldn't allow us to release this many tracks or include songs that don't all sound the same. But that's not us. We wanted to create something great and not something everyone else was doing. It's very exciting because we're really just beginning to flex our creative muscles, lyrically and musically.
Was the idea to offer a larger palette this time around, go for broke creatively?
Certainly we wanted to move beyond the more concise genre we explored on our first album "Emotional Bootcamp," but then we also went on an incredible writing spree. The songs just came one after another after another. We definitely had more material than expected, but this was a great problem to have and we didn't stop ourselves from the evolving process, as limitless as it seemed.
I'm really enjoying the guitar work on the new album – ragged, intricate, melodic. It's gnarly on "Ice Queen," old school on "Fabrication" and exploratory on "It Gets Better."
Sue feels an immense amount of joy and appreciation when people get into the diverse guitar work she put into this project. She has a lot to say through her guitar and its Folkstar magic when the guitar and vocals intertwine. Certainly there's nothing more rewarding than launching into a gnarly guitar solo live, but it's perhaps even more important for the guitar to be more intricate and contribute to making a song truly great.
A lot of players tend to neglect the quality of the song for the sake of noodling around on the guitar. Sue strives for the opposite, allowing her guitar to drive home the message of the song, whether it be intricate, melodic, or unhinged.
"Trampoline" is a great track – haunting and then explosive in a Neil Young sort of way. Three minutes in the song just lifts off. Is there a tug of war, going from acoustic, intimate sounding songs to uncaged ones like "Natural High"?
"A tug of war" is actually a great way of describing what's going on in "Trampoline." It's about your heart being bounced around like a trampoline, or having your heartstrings being pulled up and down by the one you loved and lost, the puppeteer. Most of the way through the feel is thoughtful, sad, and reflective, and then the song explodes in angst.
Both of us come from softer musical influences as well as harder, rock influences. Generally speaking, Kim leans toward the softer side with her folky roots, while Sue tends to gravitate toward harder rock 'n roll. However, Kim wrote a few of the hardest rockin' songs on the album, while Sue wrote a lot of the gentler tunes. We know that the coexistence of this type of mix doesn't persist for the majority of bands, or it's just too genre bending to handle, but for us, this is the most natural thing in the world and we wouldn't be Folkstar without it.
"It Gets Better" is about teen bullying but retains a wholly uplifting vibe musically. "Something New" too. Was it conscious to write songs about serious themes yet maintain a positive vibe to offset them, as if to offer hope?
Yes! We wrote about a lot of hard subjects on this album such as death, complacency, politics, hearing loss, animal exploitation, and teen bullying as in "It Gets Better." This is our catharsis, and what we keep, what we hold onto when it's all said and done, is hope. We want to help create a better world, and we can't do that by just talking about what's going wrong.
We also need to point out what's going right. It's easy to be brought down by things that are going on, but then there will be a morning you wake up from a bad dream, step outside your door, and if you take the time and open your eyes wide enough, you feel enriched and filled with hope by something out there that's fresh and new.
How long to make "Loud and Clear," from writing songs to the recording the album?
We had a few songs going in and we re-worked a few others, but the majority of the tracks were written from scratch. We had an insanely intense songwriting and arranging spree. We started after the December holidays, with the majority of new songs flowing in January and February, and then wrapped up recording at the end of March. This was an utterly insane amount of work to be doing in an incredibly short amount of time and resulted in countless all-nighters in the studio. It almost killed us, but it just had to happen this way, and we'd do it again.
http://wae.blogs.starnewsonline.com/38126/qa-with-folkstar
Full Folkstar Interview all about the New Album Loud and Clear!