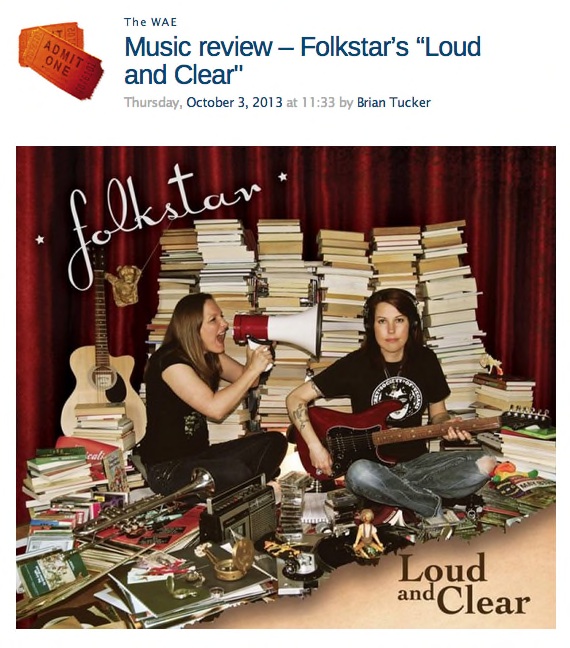 Folkstar, the local rock and folk duo of Kim Dicso and Sue Cag have been touring the east coast in support of "Loud and Clear," their new album released on the band's Karmic Fury label in late August.
The tour ended in late September and this Saturday they're having a CD release party at Gravity Records at 6 p.m. performing with other musicians including Carolina Music Award winner Chrissie McCree.
"Loud and Clear" is the duo's follow up to 2012's "Emotional Bootcamp" and it's a sizable offering at sixteen tracks. That size doesn't amount to bloat but rather a wide expanse of ideas and flavors that never results in something cumbersome. On the duo's second full length they explore themes that could ordinarily be strange bedfellows to music so melodic and quite often is purposely uplifting music.
From piano and string driven songs (the moody but elegant "Afterglow" augmented lovingly by Preston Luce's cello playing) to all out rockers ("Natural High"), Folkstar have created a plentiful Sunday buffet of songs that covers a range of emotions. You can take a stroll with "Outcast" or let temperatures rise with "Final Curtain" in which Cag's guitar catches fire.
"It Gets Better" takes on teen bullying. Inspired by the It Gets Better Project, the song works patiently with a lilting guitar line and vocals taking their time before lifting off. It's a hearty pop tune without bombast, the kind of catchy song Jimmy Eat World or K's Choice are known for. "It Gets Better" is an example of the sing-songy, intimate sounding material Folkstar loads "Loud and Clear" with, be it the sunny "Something New" or "Could You Be."
But for every mid tempo number like the low key and bristling "New Eyes" the duo takes time to explore different sounds. "Abolitionists" is a solid example, one where jazz guitar playfulness and gentle, scratchy percussion accompanies a song using American history to paint the present. Dicso provides a heated trumpet solo and Cag's guitar work bears a thick swagger.
The electric guitar work on "Loud and Clear" is all over the place, from gnarly hard riffing on "Ice Queen" to the straight ahead nature of "Fabrication." It's most inventive and emotionally exposed on the grey day "Trampoline" whose warm harmonies move with restraint as the guitar work explores. All is calm until about three minutes in when the song explodes like a silent field becoming orange with an explosion of fire.
Cag's guitar playing erupts, think Crazy Horse, in a wailing, out of control burst of energy. It's short and sweet, nicely done for effect and not for showing off. Thankfully, it happens a few times throughout "Loud and Clear," lending the notion that in another life cag would be in a Northwest rock band deafening crowds.
This energy shows up again on one of the album's three bonus tracks – "Natural High." The song is Veruca Salt meets Kiss as a down and dirty conflagration of tempered riffs and gritty, punching rhythms layered with Dicso's take-no-prisoners vocals. The marriage of Dicso's rich and often sugary vocals maintains an engaging stance against Cag's varied guitar work.
"Loud and Clear" finds Folkstar full of ideas, thematically and musically, and the real payoff is that the ambitious sounding album shows the duo with too many ideas yet not a lack of focus.
http://wae.blogs.starnewsonline.com/38021/music-review-folkstars-loud-and-clear/
Album Review – Loud and Clear