We went up to Durham on Friday to perform at the Girls Rock NC Camp, a week-long camp for girls ages 11-16. They also put on camps in Raleigh and Chapel Hill, with ages ranging from 7-16.
We weren't sure what to expect but what we found there completely blew us both out of the water. First, the staff was super sweet and made sure we had everything we needed to give an awesome performance. It was a privilege to spend the day with awesome rocker girls who are also really great people. Heather McEntire from Mount Moriah was an energetic and compassionate ringleader and, if she wasn't our hero before, she definitely is now!
The girls were attentive and incredibly smart. One girl came up to the stage area and asked if I would prefer a boom mic stand instead of the one provided. She went and got one AND set it up for me. I had no idea what a boom mic was until I was probably 20 years old! Despite the fact that they were obviously exhausted from a week of camp, everyone was respectful and attentive. They even clapped along to some of our songs! After our set, the girls had some great questions. Once again their maturity and ability to notice things was apparent. One aspiring rocker asked Sue about Sue's tendency to tuck her pick into the pickguard on her electric when she's not using it. The young guitar player was definitely taking notes for her own stage performances. Questions ranged from how to deal with stage fright to how often we practiced to where they can buy our music. These campers were the coolest girls ever!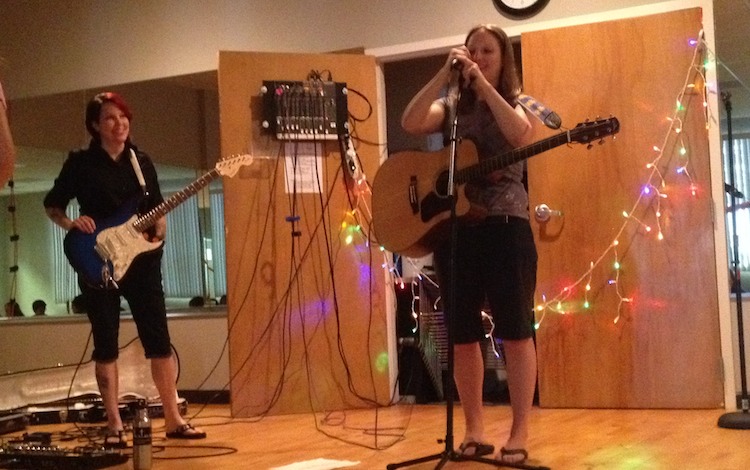 The best part was watching THEM perform. The official performance showcase was not until Saturday, but their dress rehearsal was immediately after our session that afternoon and we were able to catch all of the bands on stage. This was the part I found mind-freakin-blowing: these girls (11-16, mind you) learned to play new instruments, formed bands and came up with band names, and wrote 2 songs within the span of a week. A WEEK! I felt like a major slacker, unable to remember the last time I was able to write 2 songs in a week. And don't even ask how long it took us to come up with our band name…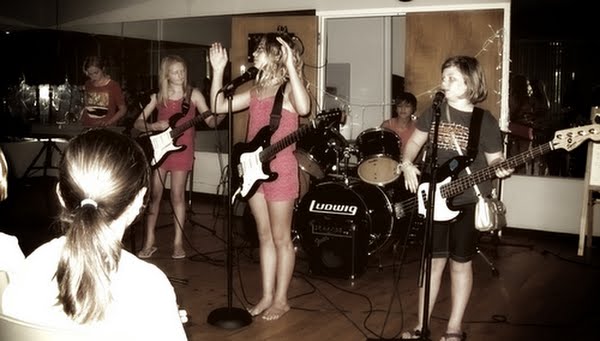 The level of enthusiasm and support for each other was perhaps the most touching part of the day. The girls cheered for fellow campers, and all of the bands had obvious camaraderie. After each band performance, Heather asked the rest of the campers for positive things about the songs they'd just heard, and there was no lack of responses.  These girls were paying attention and positive! I wish there had been a camp like this when I was younger, but am so glad that it exists now for a new generation of fearless female rockers honing their crafts.
I am looking forward to getting involved even more with Girls Rock NC. As a musician and a human, I was moved. Friday was a day I won't soon forget.  True inspiration.
Adventures at Girls Rock NC Camp