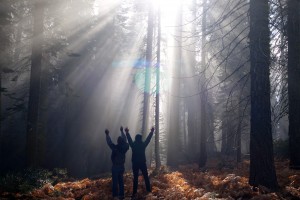 We are back in Wilmington after almost 2 months on the road, and what an adventure it was! Between us and our first show in Seattle was a week of cross country driving. We spent an enjoyable day in Chicago (and learned why they call it the Windy City) as well as a day and a half in Yellowstone National Park to ease the strain of many hours in the car. We played shows in the Pacific Northwest and in California and met some great people, among them some very talented musicians. We visited the bookstore from Portlandia, were overwhelmed by the giant Redwoods, saw the sun set over the Pacific Ocean, snaked our way through parks and cities, and ate lots of yummy vegan food wherever we could find it.
After we played our last show in San Diego, we spent several weeks exploring California and the surrounding area. In that time we hit half a dozen national parks; we marveled at the Sequioas, viewed the Sierra Nevadas from the top of Moro Rock, hiked down into the Grand Canyon, and saw the entire galaxy from Death Valley. We also were blinded by the lights of Las Vegas, walked back and forth between time zones at the Hoover Dam, and cooked a delicious hotel room Thanksgiving feast thanks to the local co-op in Flagstaff. Among the wildlife we spotted were black bears, bighorn sheep, elk, bison, mule deer, a coyote, an owl, and many different kinds of birds. All in all we traveled through 23 states and logged over 11,000 miles in a Camry hybrid.
Happy Holidays and thank you to everyone who showed us hospitality along the way, as well as those who have lovingly welcomed us back home!
And if you're like us and waited until the last minute to do your holiday shopping, you can still order from the Folkstar store and get your gifts in time for Christmas! We have some bundles that allow you to get more stuff for less money – 'tis the season!
Jingling all the way,
Kim and Sue
PS Here are some photos for you…