In addition to "Who do you sound like?" and "Where are you playing next?", the most commonly asked questions we get have to do with songwriting. Sue and I have both been writing songs for years, and no two people write songs exactly the same way.  When I write alone, I generally come up with lyrics and melody at the same time and the whole song is pretty much cohesive all at once. Sue will attest to the fact that I naturally settle into a structure – verses and choruses just so, etc.
In my previous band, I was given melodic riffs and asked to write lyrics and vocal melody to the songs.  Most of the writing and arranging took place away from the rest of the band.  Folkstar has been a completely different bird.
The first album contains some songs that I wrote and performed solo, which we then Folkstar-ized and made into very different songs. Then there were a few songs that I wrote lyrics and basic melodies to after the band formed, which we then looked at together and made into COMPLETELY different songs. Sue has a knack for knowing how to hit hard lyrically, and she has been great with helping me see past the structural limitations that I have always been so reliant on.  She not only plays insane electric guitar, but she's a master of writing and arranging parts for everything, including bass and drums.  Every Folkstar song has been genuinely co-written by the two of us.  Even if we never quite do it the same way twice 🙂
The next album is going to be even more collaborative and daring.  We both write melodies and lyrics and we're ready to take some risks.  I wrote more of the lyrics on the first album largely by default — I had all of these songs already written that I thought needed to be heard in a new, fresh way.  On this go-round, however, we're concentrating on moving forward.  There will probably be more lyrical input from Sue, as well as more complex musical patterns.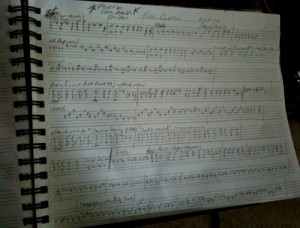 We've been hard at work on a new song, tentatively called "Final Curtain".  It's darker and more introspective than anything on the first album.  I wrote basic lyrics based on a horrifying true story, and then Sue and I sat down and came up with basic chords.  From there, I laid down vocal and acoustic scratch tracks.  Then Sue spent days holed up in the studio before she let me hear the song.  This is always my favorite part.  After I come up with something skeletal and acousticky (sure, that's a real word) and then take my hands off for a bit, the real magic happens.  Sue takes the song and adds drums, bass, and guitar, and it becomes a different (and highly evolved) beast.  Then we both sit down together and tweak. This time she really outdid herself.  There are some mindblowing guitar riffs, among other things.  We're both really pushing ourselves in writing this next record and can't wait for you to hear it.  In fact, I think we're going to post a demo version of "Final Curtain" soon!
Meanwhile, you can come see us at the Wilmington Songwriters' Sessions on Thursday, where we are the headlining act.
Also, we are going to be posting our official music video for "Cards and Letters" by the end of the week!
Get excited!
-Kim
"So, who wrote what?" (written by Kim)