Folkstar's Emotional Bootcamp album reviewed in This Coast Magazine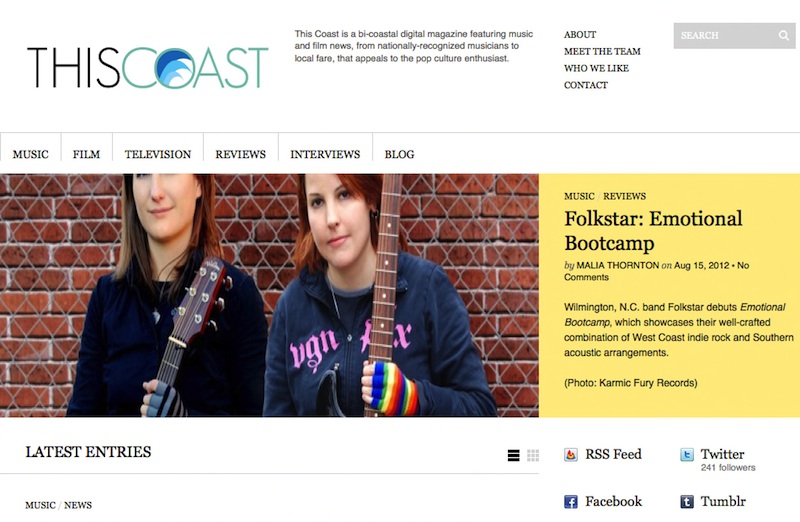 Emotional Bootcamp, the debut album by Folkstar, is an exhibit of folk rock that is reminiscent of Ani Difranco and Tegan and Sara. It isn't very often that a band will emerge with a sound that is carefully crafted – heavy on the folk and rock sounds, subtle in maintaining its Southern roots. The latter is due in part to the two women who make up Folkstar – Sue, who moved to Wilmington, N.C. in 2009 from the West Coast and Kim, who has lived in the city since 2004.
In creating Emotional Bootcamp, it was clear that their experiences would drive every facet of the album, particularly the title. According to Sue, "We were both going through break-ups and it was a very difficult time. As a result, we poured ourselves completely into writing and recording. The title came when we were sitting around talking about how difficult things were at the time, and Kim said 'It's like emotional bootcamp.' We both sort of went 'Ooooh, album title!'  I think we had the name of the album before we had the name of our band."
Unbeknownst to the pair, it would be Sue's rock influences that would be fundamental in their work. Her influences, including an array of musicians from Bryan Adams to Metallica to Paramore, gave the band a direction that differed from typical Southern indie rock.
The major change for us came along when [I] heard Kim's folk/pop driven acoustic originals. [I] heard complete musical [arrangements] that took the songs to the next level in a natural way, adding to their essence and also rocked up a bit. This is actually how we came up with our name – Kim is folk and [I am] rock [or rockstar], and together we became Folkstar, explains Sue.
The band showcases a level of energy that feels very organic. The smooth combination of cool West Coast rock combined with a foundation of folk songwriting is evident from the very beginning. "Cards and Letters" opens with the latter, while "After All" relies more heavily on the former. Emotional Bootcamp is an exhibition of heartbreak that listeners can relate to, particularly as the progression of the album leads to a quiet conclusion as the pair recalls the dissolution of their former relationships.
With their debut album completed, Folkstar is focused on introducing new listeners to their work. As summer winds down, Sue expects listeners will hear more of Folkstar in the coming year. "The music video for Cards and Letters is coming out in a couple weeks, and we have a huge radio campaign at the end of August, which should introduce us to some new audiences. We have shows in Raleigh in September and are putting together a Pacific Northwest tour for October. Basically, we're branching out and taking our music to the people! We're also already writing and recording the next album, which should be out in early 2013," she says.
Emotional Bootcamp is available now at iTunes, Amazon, and Spotify. For more information on Folkstar, visit their website at folkstar.net.
Malia Thornton
This Coast Magazine
http://thiscoastmag.com/folkstar-emotional-bootcamp/
Folkstar's Emotional Bootcamp album reviewed in This Coast Magazine