Folkstar is excited to join the lineup for the 2014 Interact Benefit taking place at Waverly Place Commons in Cary, NC on April 12th. Presented by NC Local Music, this is a huge event with several bands coming together to raise domestic violence awareness. Please join the Facebook event at: https://www.facebook.com/events/730611740282211.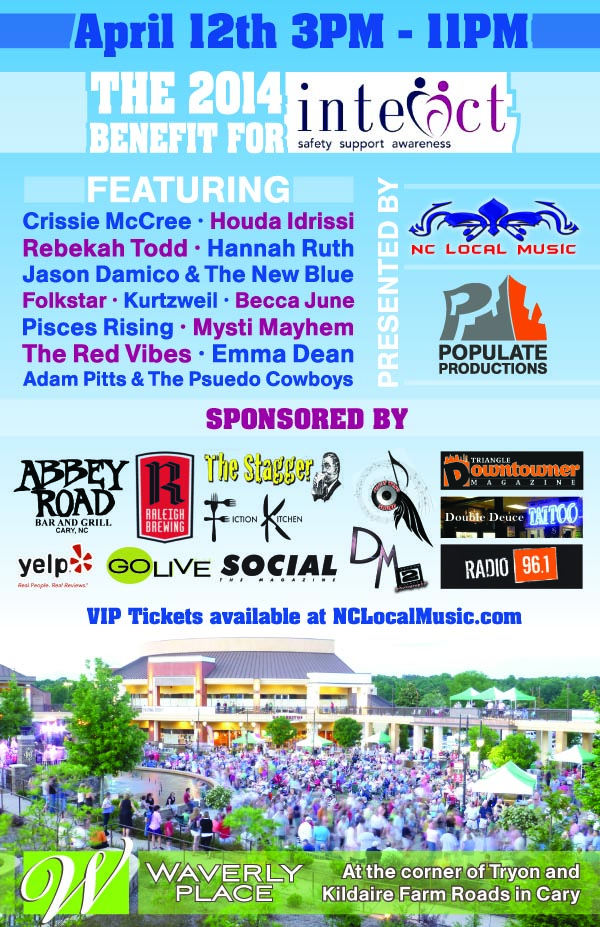 For the past six years NC Local Music has been proud to organize a yearly benefit fundraiser concert for Interact Of Wake County. InterAct is a private, non-profit, United Way agency that provides safety, support, and awareness to victims and survivors of domestic violence and rape/sexual assault. InterAct fulfills this mission through the support of its volunteers and community.
NC Local Music has had numerous artists throughout the years perform at these events and has raised thousands of dollars, and plenty of awareness for Interact, and can't wait for this April 12th to do it again. This year however we've moved to a larger venue and added more acts! The event will be held in the commons area of Waverly Place in Cary NC. Waverly Place is located at the intersection of Kildaire Farms Road and Tryon Road across the street from the Wal-Mart Shopping Center and Wake Med. The event will feature such artists as : Adam Pitts & The Pseudo Cowboys, Jason Damico & The New Blue, Folkstar, Mysti Mayhem, Crissie McCree, Houda Idrissi, Rebekah Todd, The Red Vibes, Emma Dean, Pisces Rising, Becca June,Hannah Ruth and Kurtzweil. These artists range from all over the state and have come together for this great cause, and we have  a special guest speaker, Debra Morgan of WRAL TV.
Joining in the fun is Populate Productions, who has teamed up with NC Local Music to ensure a great success for Interact. And most of all a fun time for all participants. From the fans, artists, organizers, and the folks who will be in attendance. We also want to thank all of our sponsors for all of their support!
NC Local Music would like to thank:  Populate Productions, Waverly Place, the artists, Yelp, The Stagger, Southwing Sound, Double Deuce Tattoo, Abbey Road Tavern of Cary, DM2 Photography, Nakrani Studios, Go Live Plus, Triangle Downtowner Magazine, Raleigh Brewing Company,  RaleighMusic.com, and Fiction Kitchen.
Date:  April 12th 2014
Time:  3pm-11pm
Cost:  FREE General Admission, $100 for VIP
Where: Waverly Place Commons Cary
Who:   Adam Pitts & The Pseudo Cowboys, Jason Damico & The New Blue, Folkstar, Mysti Mayhem, Crissie McCree, Houda Idrissi, Rebekah Todd, The Red Vibes, Emma Dean, Pisces Rising, Becca June,Hannah Ruth and Kurtzweil
Website:  http://www.nclocalmusic.com
Facebook Event: https://www.facebook.com/events/730611740282211/ 
Folkstar Performing at 2014 Interact Benefit in Cary, NC