It's Here! It's Here! It's Here! Our funniest video ever, complete with a dance routine! We morph into forest creatures!! Smile, laugh, and enjoy a seriously fun song!

"Into the Trees" by Folkstar from their third album Treelines and Skylines!
"Into the Trees" was filmed in the ancient sequoia forests of Sequoia and Kings Canyon National Parks located in the southern Sierra mountains. The video depicts the whimsical activities of their alter ego animals (Sue as Squirrel and Kim as Raccoon) as they prance around in their natural habitat.
"Into the Trees" originated as a long poem about belonging to the trees and coming to my final resting place beneath them. The song brought the overall positive message to the forefront, praising the virtues of the forest as a place of balance. The verses and pre-chorus describe a struggle between two virtual worlds, that of nature and that of man: "one foot in nature, one foot on the street." While the first verse claims I'm "nature's orphan in human hands," the second explains that it's "both I need." There is a dichotomy here that remains unresolved.     ~Sue Cag of Folkstar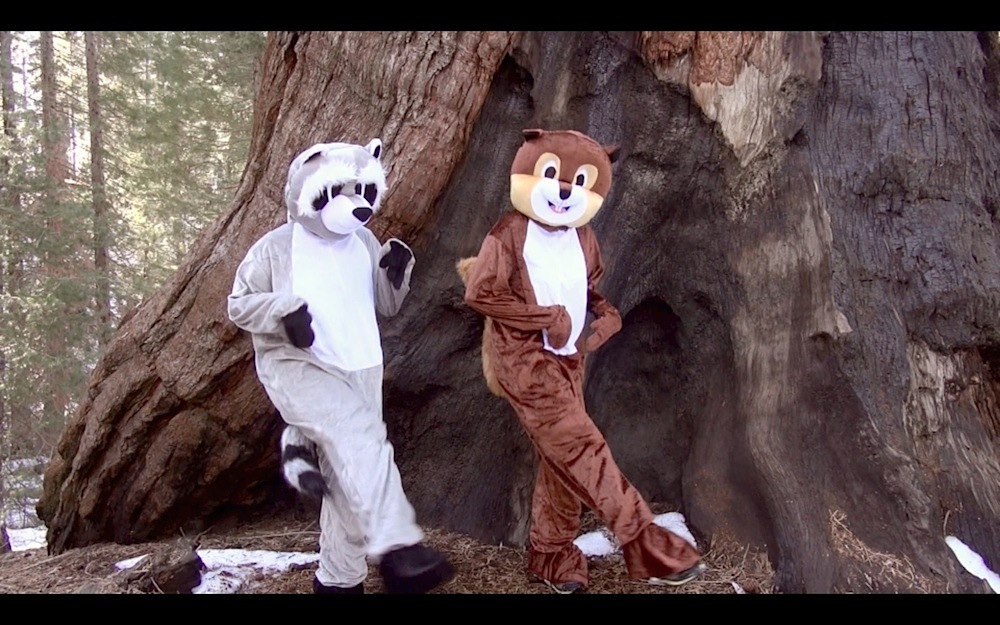 Into the Trees (lyrics)
Published by © 2015 Karmic Fury Records (ASCAP)
I have a hundred songs I'll never write
A thousand notes I'll never play
I have a light that burns unseen
As I walk alone into the trees
I've always lived my life on the periphery
In a world that makes no sense
Lost among the chaos
Nature's orphan in human hands
Struggle to carve out a place
Bending until I break
What's real and true is the earth and the leaves
They never lie, they never deceive
There's a reason for each and every thing
And the animals, they run free
Into the trees
Into the trees
Into the trees
One foot in nature, one foot on the street
The pull of the wild, the push to agree
Not one or the other, but both I need
And one is disappearing right in front of me
Struggle to carve out a place
Bending until I break
What's real and true is the earth and the leaves
They never lie, they never deceive
There's a reason for each and every thing
And the animals, they run free
Into the trees
Into the trees
Into the trees
I have a light that burns unseen
As I walk alone into the trees
There my soul will gently sleep
There my soul will gently sleep
credits
from Treelines and Skylines, released September 29, 2015
Kim Dicso – lead vocals, backing vocals, acoustic guitar
Sue Cag – electric guitar, bass guitar, drums